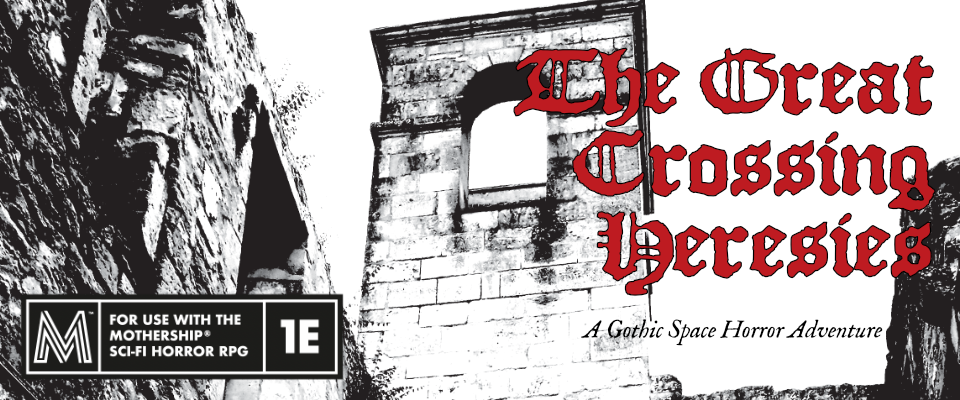 The Great Crossing Heresies
My first solo Kickstarter project is live for Zine Month! Bio-Drones & Cryo-Clones is an in-depth biopunk facility-crawl, check it out!

The Great Crossing Heresies is Published by RV Games, digital copies available exclusively on Drive-Thru RPG.
Buy the whole Cerdo Cycle Bundle, and get a discount on all four adventures.
--------------------------
The Great Crossing Heresies is an officially licensed Mothership RPG Gothic Sci-Fi Horror adventure. Formatted for US Legal size (14 in x 8.5 in), this is a four-panel gatefold pamphlet. It launched a successful Kickstarter Halloween 2022!

The Kickstarter funded physical copies of the other Cerdo System pamphlets:

Other Stretch Goals completed include Maps by Paths Peculiar and Creature Art by Amanda Franck!

----------------------

"High Sister of The Order of the Apostle's Gate requires Broling Yann and his 35 monks and acolytes, the Defenders of God's Gate. After an unsuccessful mission by her own people, she has sent you, non-believers, to convince Yann to bring his congregation to help save the main settlement from impending disaster."
Set on the planet of Cerdo's Garden, this adventure takes place within the same star system setting as my previous two space station-based pamphlets, Burn the Vermin on TAMA-81 and Snag the Suit/Evac the Exec. The fourth Cerdo system adventure, High Water Everywhere, was submitted to the Vexes & Hexes Jam October 2022!
---------------------------
Mothership RPG are trademarks of Tuesday Knight Games. For additional information, visit www.tuesdayknightgames.com or contact contact@tuesdayknightgames.com. This work was made by humans. No AI or Machine Generated works are included in this project. Supporting this project means you are supporting real human beings who have dreams, passions, & bills. Thank You.